Yu Qian Anji Baicha (Spring Rain Harvest Anji)
Green Tea 2021
Yu Qian Anji Baicha has a full yet mild flavor and floral aroma. An affordable nutritious everyday high end green tea rich in amino acids, made with one bud and two leaf pluckings from the spring harvest.
---
Tea Origin

Anji County, Huzhou City, Zhejiang Province, China



Tea Bush

Baiye #1 (White Leaf #1)



Tea Master

Yu Shunhu



Harvest Time

Mid-April



Picking Standard

One bud, two leaves
---
Yu Qian Anji Baicha has a full yet mild and clean flavor and floral aroma. A nutritious high end green tea rich in amino acids made from the second spring harvest. This tea is popular with green tea lovers who want to appreciate the health benefits of a green tea that possesses a more mild and gentler flavor profile than most and is more affordable for everyday. Picked slightly later than Ming Qian Anji Baicha, it is slightly more astringent with a stronger flavor and greener color.
The name Yu Qian Anji Baicha (Spring Rain Harvest Anji) refers to the second spring tea harvest before the Gu Yu festival that falls on April 20th, a time when spring rains typically fall. Gu Yu or "spring rain" is the 6th of the 24 solar terms that govern Chinese agriculture throughout the year. Yu Qian Anji Baicha is plucked from the tea bushes at a plucking standard of one bud and two leaves, slightly later in the spring than its predecessor Ming Qian Anji Baicha (Early harvest Anji), which is usually harvested at the beginning of April.
Getting the timing right to harvest Anji Baicha in the spring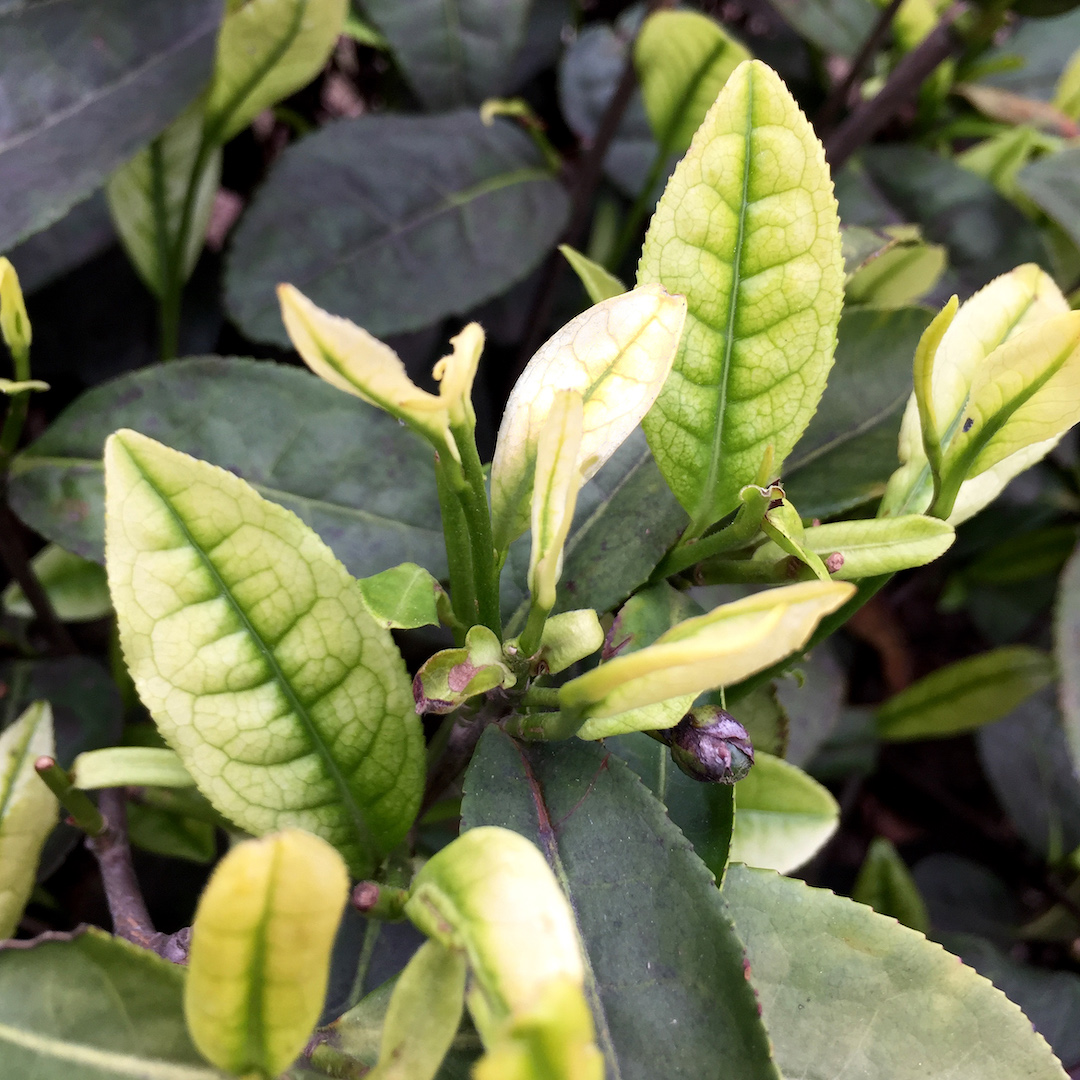 While Yu Qian is picked only a few days later than Ming Qian, they must finish the harvest before the weather becomes warm. Once temperatures exceed 25 Celsius, the tea starts to grow very fast and the light jade coloring will turn to a bright green, creating a tea of a far different character. Generally, all Anji Baicha's harvest season is centered around one time per year from the end of March until mid-late April. This is an approximation, since the picking time will depend largely on variations in temperature and weather in a given year.
When tea is picked in the cold season, the tea leaves contain more amino acids and antioxidants. The roots of the tea bushes have rich stores of nutrients, and with every succeeding day the leaves will grow noticeably larger in size. The plucking standard is one bud to two tender leaves for this specific tea. For Ming Qian Anji Baicha, the plucking standard is one bud to one leaf.
The long history of Anji Baicha green tea
This tea's history extends at least as far back at the Song Dynasty with the famous emperor Song Huizhong (1082-1135). Renowned both as an artist and as an ardent tea lover, he wrote a book about tea and devoted an entire chapter to the pale tea leaves of "Baicha." In addition, Lu Yu (733–804) the famous tea sage and writer of the world's first book on tea during the Tang Dynasty, described the Anji area where it originates as a treasure of tea. However, he did not mention a specific tea or source. It took 900 years for tea scholars and tea masters to put the two together to realize they were talking about the same tea, and discover the still living Baicha bushes in Anji County of Zhejiang Province.
It has taken since 1980 to propagate enough tea plants from these bushes to have a commercial crop. Since then, Anji Bai Cha has become the most sought after green tea today due to its limited production and extensive history in the tea world. All Baicha bushes today are descended from two mother bushes, only one of which is still living. The remaining mother bush is estimated to be over 300 years old and its place on the mountain side has now become something of a destination for devoted Chinese tea drinkers.
No chemical fertilizer, pesticide, or herbicide was used in the production of this tea. Click here to read more about our promise to fair trade and the environment.
Yu Qian Anji Baicha (Spring Rain Harvest Anji) brewing guidelines
5 grams (3 Tb) tea
12 oz 85°C (185ºF) water
3 min. first infusion
At least 4 infusions: 3, 3, 5, 8 minutes