Welcome to Seven Cups
We source high-quality teas directly from tea makers across China. While most tea companies focus on their packaging, 100 percent of our focus is on the tea inside the package.
Since 2002, we have traveled countless times to China and developed long-lasting relationships with our suppliers and partners. We are now fortunate enough to call them our friends and teachers.
Over the years, we have continued to offer our customers teas and teaware that we would want to enjoy ourselves. Our teas feature the skilled tea making and craftsmanship of over 30 producers from some of the most remote areas across China.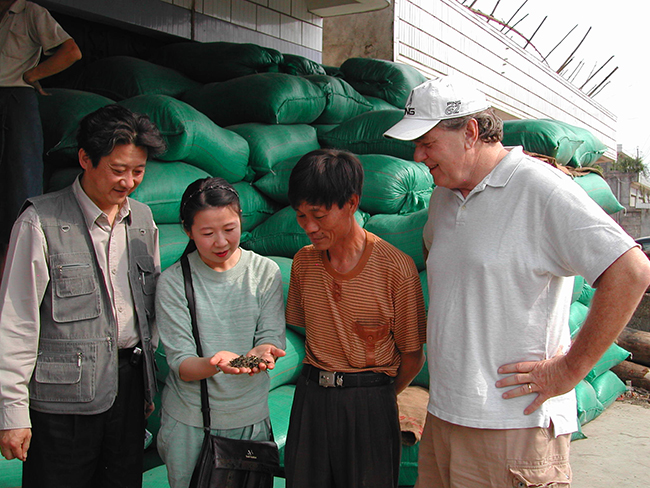 We want to share the finest and freshest Chinese tea with the world and continue to develop lasting relationships with our suppliers and our customers.
Seven Cups started from Austin Hodge's desire to share exceptional teas with the world after traveling to China, sourcing teas for his own enjoyment. He realized that American tea drinkers were missing out on the opportunity to try quality Chinese tea. With the help of his wife, Zhuping, they started selling tea at the local St. Philip's Farmers' Market in Tucson, Arizona. Together, they built a local community of tea enthusiasts and opened the teahouse in 2004.
Thanks to our incredible customers and community, we have built a company that connects tea makers across China to tea lovers and enthusiasts in more than 50 countries. Seven Cups is proud to support and supply tea to many cafes, coffee shops, restaurants, and tea businesses around the world.
Seven Cups is a member of the Chinese International Tea Culture institute. Austin is the first American to be published in their journal, and was twice awarded the title of Honorary Director by the organization.
---
Press about Seven Cups
2023: Arizona Daily Star: Seven Cups Fine Chinese Tea shop specializes in high-quality teas by Mamta Popat
2022: Tea Biz Podcast: Retailers Rekindle Tea Culture Face-to-Face by Dan Bolton
2022: Tucson Foodie: Seven Cups Fine Chinese Teas Officially Opens Its New Location by Matt Sterner
2021: Arizona Illustrated: All the Tea In China video for Arizona Public Media
2019: Thrillist: 12 Exceptional Tea Houses You Need to Experience by Kevin Alexander
2014: edible Baja: The Price of Tea in China by Renée Downing
2012: Travel + Leisure: A Global Guide to the Best Tea by Bruce Schoenfeld
2012: Tucson.com: Seven Cups – Tucson's Seven Cups among top 6 tea houses in U.S. by Phil Villarreal for the Arizona Daily Star