Zui Qun Fang (Drunken Peach)
Black Tea 2023
An early spring black tea with an intoxicating floral and fruit-like aroma. Brews to the pale orange "tangerine peel" color that is characteristic of the heirloom Tongmu tea bushes from the historic origin of black tea in Fujian. Its flavor is dense, complex and persistent, remaining sweet and pleasant through multiple steeps. The ripe peach aroma and sweetness that gives it its name is most noticeable in the third and fourth infusions. An innovative new take on a classic tea.
---
Tea Origin

Tongmu Village, Wuyishan City, Fujian Province, China



Tea Bush

Tongmu Qizhong (Tongmu Heirloom Tea Bush)



Tea Maker




Harvest Time

Late April



Plucking Standard

One bud, three leaves
---
The cutting edge of innovation meets the heart of tradition in this black tea, Zui Qun Fang (Drunken Peach). Putting a new spin on the world's original black tea from Tongmu Village in Wuyishan, this new wave black tea foregoes the pine-smoking process that has so long defined Tongmu Lapsang Souchong. Instead of obscuring the tea bush's natural character with smoke, tea master Wu Jianming used refined leaf withering and oxidation techniques to draw out intoxicating rich floral and stone fruit aromas from its early spring leaves.
Drunken Peach is excellent enjoyed in multiple "gongfu style" hot water steeps, as its aromatics intensify with each steep. Without a trace of bitterness or heaviness, its permeating flavor fills the whole mouth and lingers with a long finish. The brew holds its ripe peach fragrance when cooled. The aromas that hang in the cup after infusion are uncommon in black tea and are the result of tea maker Wu Jianming's innovative hybrid of black tea and wulong tea processing techniques.
New inventions rooted in old Wuyi tea traditions
Seven Cups has always supported both traditional tea craftsmanship as well as skilled innovation that results in quality tea and sustainable agriculture. Mr. Wu combines the best of both in Drunken Peach. With his cross-disciplinary expertise in Wuyishan's traditions of making both black and wulong teas, he has developed new techniques to produce a stunning high end black tea that is naturally fruity, sweet, and complex. The signature longan-fruit flavor of Tongmu's quntizhong heirloom tea bushes transforms into an enduring ripe peach character.
For a long span of history, Chinese black tea was made as a low-grade export product, but recent years have seen the rise of new high-end black teas like Drunken Peach. You can learn more about recent shifts in black tea production in our blog posts How Chinese Tea Conquered the World (and then China) and The East is Red: China's Red (Black) Tea Renaissance.
The birthplace of black tea in Tongmu
Smoked Tongmu Lapsang Souchong was the world's first black tea, created out of necessity by the innovative tea farmers in the small Tongmu Village in Fujian Province of southeastern China. Tongmu Village was founded between 1607 to 1644. The terrain in this small village was difficult to farm on so the villagers were only able to successfully grow tea and bamboo. Since they were not able to grow enough food to last them through the harsh mountain winters they relied heavily on selling their exceptionally sweet tea, rich in amino acids due to the high altitude it was grown at. At this time, green tea was the only tea that had been invented yet, so the tea was made by pan frying and shaping to then be roasted over a bamboo roaster fueled by odorless bamboo charcoal.
The return of modern Tongmu black tea
Tongmu Village is again at the forefront of black tea innovation today. Jin Jun Mei, a popular new single-bud black tea, was invented by Tongmu tea maker Liang Junde in 2005 and inspired a wave of renewed interest in China's high-end black teas. Wu Jianming is a Tongmu native who learned tea making from both Mr. Liang and noted Wuyishan rock wulong tea maker Liu Guoying. Mr. Wu's exceptional teas, like Zui Qun Fang, are the fruit of his dedication to the craft and the signature quality of Tongmu-grown tea.
The invention of black tea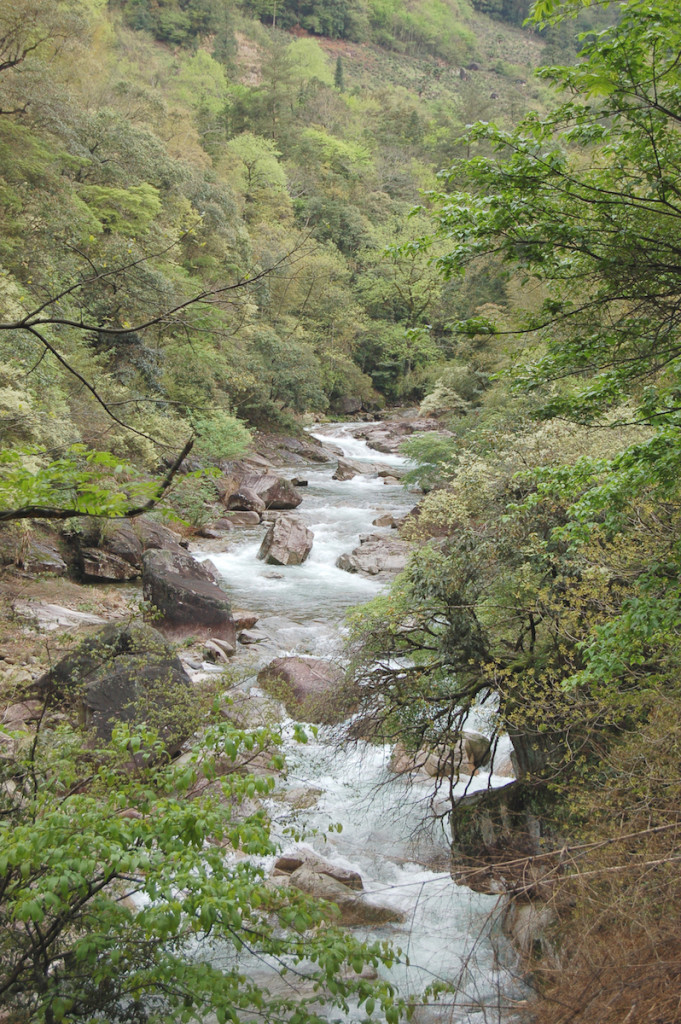 One spring, a crafty general decided to surprise his enemy by sending his troops through the  mountain path that ran directly through Tongmu Village. The soldiers trampled through the village  just after the tea picking had been completed, forcing the villagers to flee and hide in the mountains while the soldiers finished off the rest of their already minimal food supply and slept right on top of all their freshly picked tea leaves. A couple days later when the soldiers had moved on, the villagers returned to find their tea leaves broken, and oxidized.. One villager suggested they should try roasting the leaves over horsetail pine charcoal (a local tree) to cover up their strong over-oxidized smell.
The villagers transported the tea to a small trading center town called Xincun, where merchandise was sent by boat to the port city of Fuzhou. They begged a Xincun merchant  to take their crop. They assumed that they wouldn't make much of a profit, if any, but were surprised to find the next year there was not only a nice return but also a request for more of this new pine roasted tea. Thus the first black tea was invented.
No chemical fertilizer, pesticide, or herbicide was used in the production of this tea. Click here to read more about our promise to fair trade and the environment.
Zui Qun Fang (Drunken Peach) brewing guidelines
5 grams (1.5 Tb) tea
12 oz 100°C (212ºF) water
4 min. first infusion
At least 4 infusions: 4, 4, 5, 8 minutes